Brent S. Howard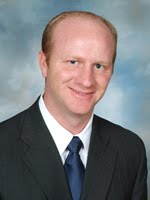 Mr. Howard is originally from the Altus area and has returned to open a firm concentrating in estate planning, tax and business planning, elder law, and commercial law. Brent has specialized in these areas of law during his legal career and brought his knowledge of planning opportunities and tax advantages to the citizens of southwest Oklahoma.
Brent is the son of Bob and Renee Howard of Friendship and graduated from Navajo High School. He then attained Agricultural Economics and Accounting degrees from Oklahoma State University, being named a Senior of Significance prior to graduation. Brent obtained his law degree from the University of Oklahoma, graduating with honors. He furthered his studies at the New York University School of Law obtaining a Legal Masters (LL.M.) in Taxation. The NYU School of Law is highly regarded as the premier school for tax specialization and the education Mr. Howard received places him in an elite class with less than fifty other attorneys in the state of Oklahoma.
Brent is certified to practice before the State Bar of Oklahoma and the United States Tax Court.
Brent is an active member of the First United Methodist Church of Altus, Oklahoma Farm Bureau, Young Farmers & Ranchers, and the Jackson County Republican Party.